You can leverage EmpowerPioneers.com website to engage small business owners, new startups, online home-based businesses, and entrepreneurs and promote your products and services.
EmpowerPioneers.com community provides you with an unprecedented local and national multi-platform reach to drive your advertising plans.
If you wanna reach your target audience of business professionals, startups and entrepreneurs, home-based business owners, online professionals, affiliates, online business investors, and business pioneers, then you have found one of the best online business opportunities platforms.
EmpowerPioneers.com is a business marketing portal for sharing business ideas, latest marketing tools, and online courses and training that help business professionals succeed online. If you are looking to promote your products and your business to this target audience, we can help you with content marketing, brand marketing, well-designed and convincing native ads, banner ads, newsletter emailing, sponsored posts and listings. Promote your products and services on EmpowerPioneers.com and win the hearts and minds of entrepreneurs and business professionals and pioneers.
Offer your products and services to our community and online visitors, TODAY.
We offer the following Packages and Services:
1. Our website visitors and traffic
Roughly, our marketing strategy has a 50% focus on content marketing through Organic SEO, ad purchasing in Social Networks, blog post in online business assets, and influence marketing and/or cross-promotion campaigns.
The other 50% is focused on purchase traffic (SEM: search engine marketing using keywords/phrase PPC) from the main 3 search engines (Mostly Google: 70%+, and Bing: 25%+).
Our current plans include approximate expenditure between $5,000-$10,000 per month (depending on the month of the year, and the business season variations) in advertising and more specifically, in May 2021, we spent just over $7,850.
Our latest traffic analysis is shown below:
JUNE 2021 website traffic analysis: June 1st, 2021 to June 30th, 2021
Total visitors in June, 2021: (U.S.A. only) 182,480 or 84.9% of total # of visitors
Total visitors in June, 2021: (Worldwide) 214,890
Daily number of visitors in June, 2021: (Worldwide) approximately 8,000 (85% from U.S.A.)
Search engine traffic during June: 172,563 or 80%
Social Media traffic during June: 10,394 or 16%
Direct entry traffic during the first 10 days of June: 6,987 or 3.2%
Incredibly low bounce rate (only 1 page visited) of 19%, while industry standard is 48.5%
Number of website pages viewed during the month of June: 585,750
Average visit duration during the month of June: 2 minutes per visit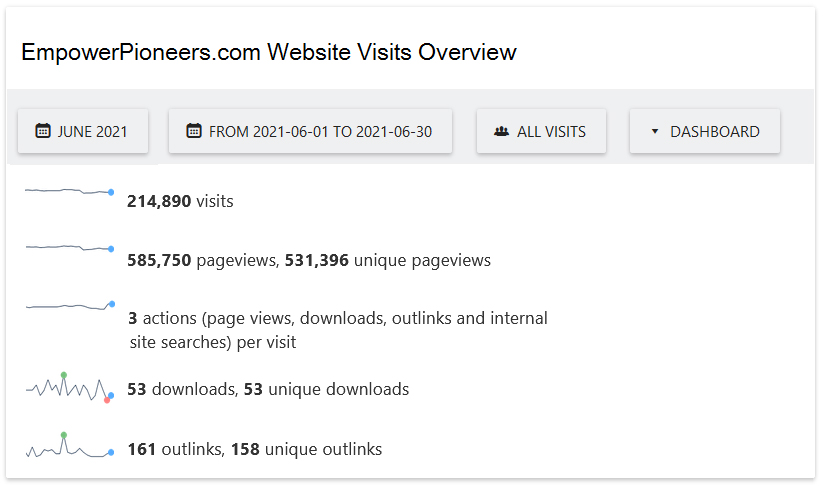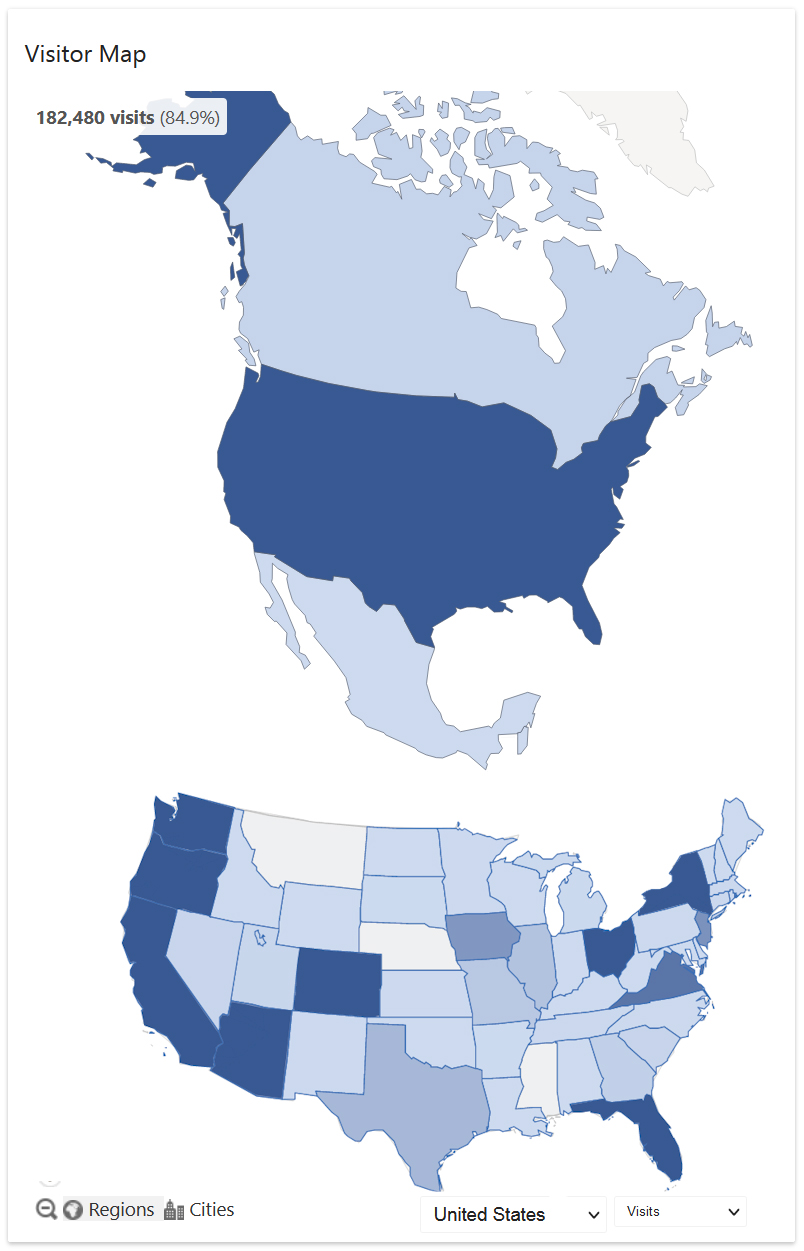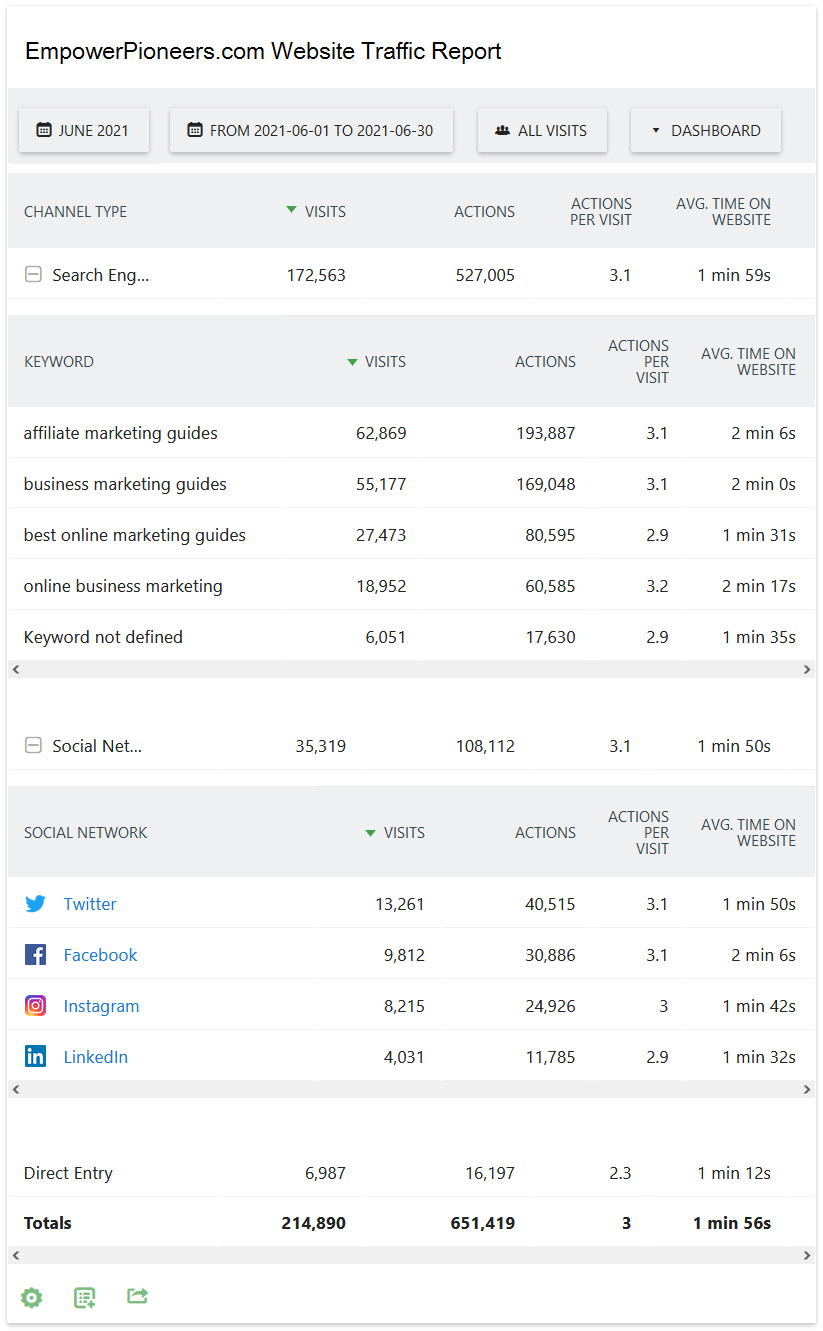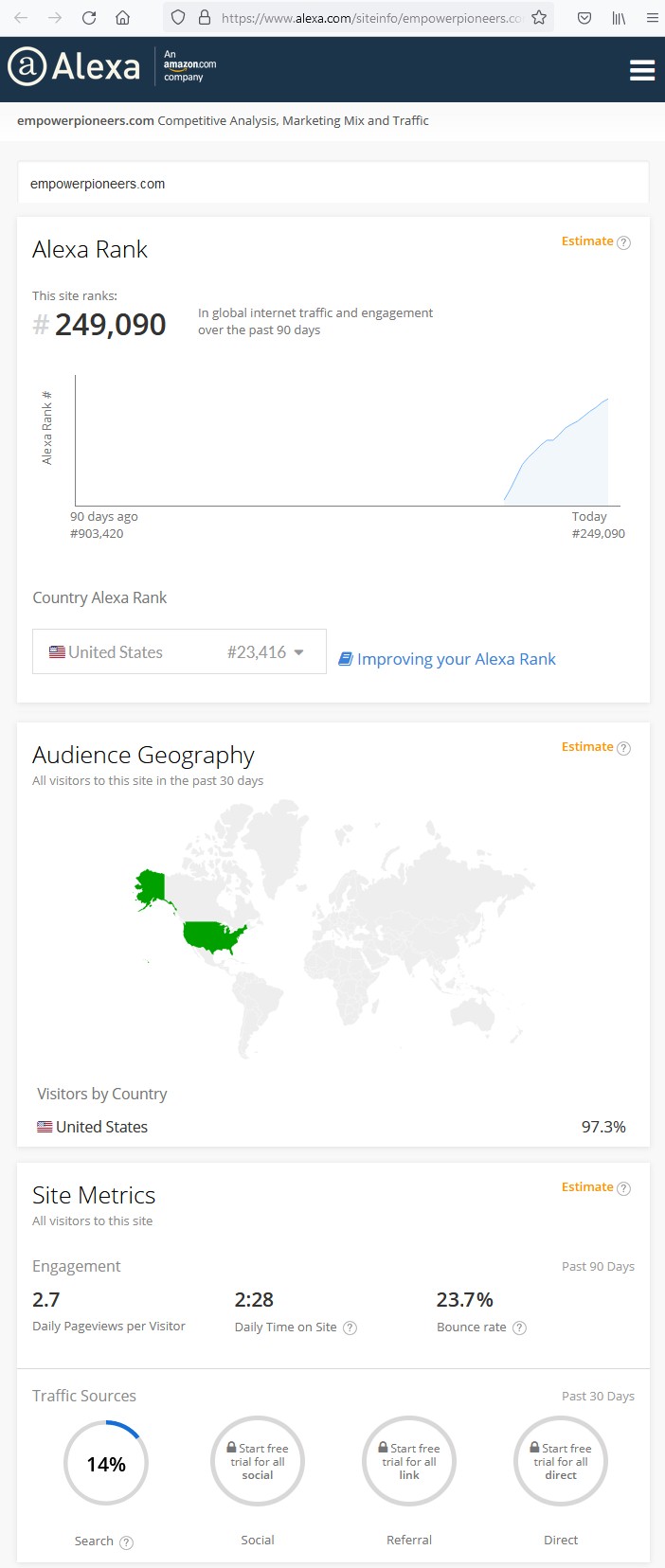 2. Advertising on a blog dedicated to business professionals, entrepreneurs and marketers is much more cost effective than advertising with search engine companies.
Search engine and media space companies (Google, Bing, Yahoo, most Social Media Networks, etc.), offer their ad space based on bidding strategies to earn a "cost-per-click" income, where advertisers like yourself can pay a PPC (payment per click). There is competition between advertisers so these media companies earn more and more, depending on how desperate advertisers get in a competitive market to reach customers.
That is NOT the case with a blog dedicated to business professionals, entrepreneurs, startups, marketing and campaigning specialists. EmpowerPioneers.com offers fixed cost advertising to help you budget your campaign and not have to compete in a bidding war/auction for whoever has more money to get the ad space.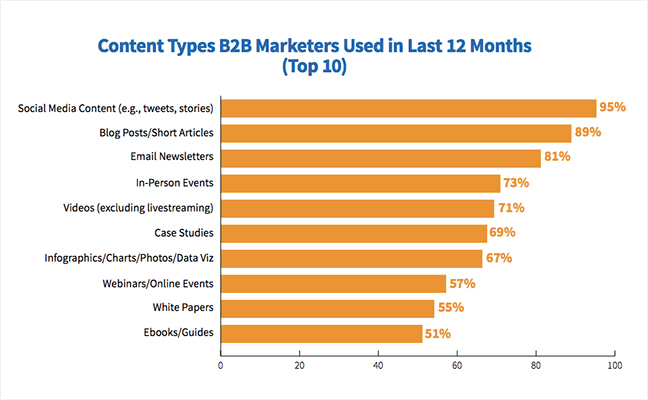 3. What is the difference in cost between Content/Brand marketing on an established blog community and newsletter emailing vs. Search/Social Media advertising?
Well, media ads (say in Google, Bing, or most Social Media Networks) can quite dramatically vary in cost depending on the product and/or service you are promoting/advertising. Not only that, as mentioned above, there is an additional premium associated to competitive demand for your products/services.
For instance, anything to do with legal ads, insurance ads, contractor ads, business services ads, and others you are looking at somewhere between $5 per click to upwards of $500 per click. Yes, $500 per click. If you are an Personal Injury Attorney in Denver and want to get customers from Google search and get leads, you are paying somewhere around $500 per click, and about a 10% conversion ratio, which means that you spend about $5,000 to get one personal injury customers in Denver. In some cases, these numbers are still very conservative. Some law firms spend as much as $100,000 per month advertising in Google. That is, again, $100,000 per month. Many business owners also see that they have to spend almost a minimum before they see any results, somewhere around $8-$14 per click to be able to get enough impressions (viewable ad content) with a budget of somewhere around $800 per month to make the campaign even worthwhile to try.
With EmpowerPioneers.com you can get a comprehensive $1,000 per month content marketing package, to bring you leads with much improved conversion rates. We also offer Brand marketing for those that need video marketing added to their package as well as much more comprehensive brand content development.
4. Inbound Marketing through Content vs. Outbound Marketing (Search Engines)
Inbound marketing is educational, and it is achieved by providing valuable content (content marketing), through blog posts and articles, and through offering information that customers/consumers want to know about.
Outbound marketing is interruptive, instead of educational. It is often achieved through cold calling, cold emails, ads that are self-promotional rather than educational.
Inbound marketing works far better than outbound marketing since it is all about bringing value to your customers by creating and offering educational and informative (even entertaining) content they want and enjoy. This includes blog posts, online guides, latest trends and stats, videos, ebooks, and tips.
And here's what customers are saying about inbound marketing vs. outbound marketing:
52% of customers say SEARCH ENGINE "blatantly self-promotional and non-informative" content (advertising) is a major turn off!
Think about the last big purchase you made, did you look it up on a search engine, did you do some research, or get the inspiration to find out more about it from a blog post article? The Internet has changed the way customers purchase their goods and services.
Reasons why Content/Brand marketing through EmpowerPioneers.com is more effective:
– Increase lead generation – Inbound marketing through engaged blog users makes your marketing campaigns more effective and increase results and yields more organic leads

– Increases brand awareness – as engaged audiences become more aware of your offering

– Increases conversion rate – as inbound marketing helps guide your customer through the process that encourages them to buy from you

– Improves experience – engaged audiences reading blogs posts and interested in the subject that has relevance, and hence your customers improve their overall customer experience with your brand

– Increases sales – Inbound marketing targeting engaged blog audiences helps build relationships with your customers, which helps your sales team close more sales
5. What makes blog promotion result in better ROI than media ad purchasing?
Blog websites offer advertising at a fraction of the cost as the bigger ad media companies because advertisers can target niche markets with often very effective marketing campaigns, and go directly to their potential customers and not waste money on pay-per-clicks with "tire kickers", (i.e. people doing research at university, or people that are just looking and not actually looking to buy, competitors researching your ad content, or even malicious intent clickers who want you to run-out of your daily budget, etc.).
EmpowerPioneers.com offers substantially better results (statistics and metrics) for each advertising Dollar spent, most often because of one simple reason: "real engagement". Blog audience are individuals who are REALLY interested in the content of the niche blog, that is why they are there – because they are interested in the subject. There is no ambiguity that exists with search engines, and hence, no clicks wasted, just targeted audience in one place.
6. What are the latest demographics and/or statistics on our community blog users?
Here's the data that is available online.
Almost 410 million people view 21 billion blog pages online.
Nearly 70 million posts are published each month by top tier blogs alone.
77 million new blog comments and discussion are generated by readers per month.
Blogs have been rated as the 5th most trustworthy source for gathering online information.
Blogs have been rated as the 3th most common content marketing strategy, after video & ebooks.
70% of people would rather learn about a company through articles rather than advertisements.
77% of internet users read blogs regularly.
Internet users in the US spend 3X more time on blogs than they do on email.
The "how-to" headline is the third most popular headline preference at around 17%.
Marketers who prioritize blogging are 13x more likely to have a positive ROI on their efforts.
57% of marketers say they've gained customers specifically through blogs.
53% of marketers say blogs are their top marketing priority.
7. Can I do segmenting with CONTENT or BRAND promotion?
Absolutely. That is one of the MAIN REASONS why people prefer blog promotions over search engine media ads.
As the world of online advertising continues to grow with ads getting more and more expensive (mostly because of auctioning media ads), one thing is certain: consumers want to learn about brands from content rather than traditional ads in big media companies like Google, Bing, Facebook, and others.
Most marketing professionals prefer advertising on content driven blogs in pursuit of the ability to segment their customers for optimum campaigning.
Online audiences and customers are increasingly accustomed to personalized online experiences tailored to their content interests, preferences, and their area of business focus. Professional marketers are very keen to campaign and employ marketing strategies based on their potential customers' interests. Segmenting customers is an incredibly effective way to reach out to as broad an audience as possible whilst simultaneously achieving highly focused targeted campaigns. This way you can more effectively allocate your marketing budget by ensuring that ads and pricing offers reaches those most likely to respond positively. This is one of the most significant benefits of advertising in a blog.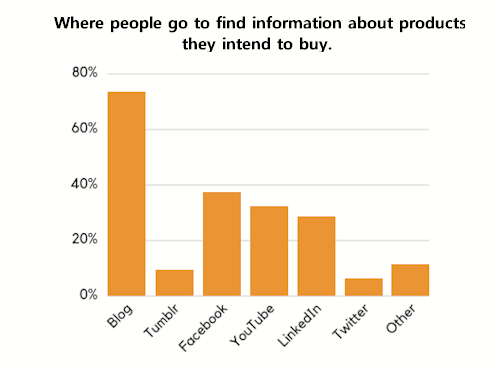 To view ad space availability and Packages, click below:
Contact us for more details.
--- article sharing ---