November 27th, 2023
Trading of domain names has been around since the early days of the Internet itself and there are many individuals who have become millionairs doing just that – trading or selling domain names.
The domain name CarInsurance.com was bought for $49.7 million. Some of the others include: Insurance.com sold for $35.6M, VacationRental.com sold for $35M, PrivateJet.com sold for $30M, Voice.com sold for $30M, Internet.com for $18M, 360.com for $17M, and Insure.com for $16M.
Many domain names are selling and are still sought after with high demand for single and two word domains, fetching anywhere from $2,000 to $1 million or even higher.
If you are serious in getting in this business, you would need to start building a domain portfolio, constantly researching and evaluating domains being sold and domains worth buying and keeping. Ideally, one would have also a strategy to buy certain domains for a quick resale profit to generate income income and investment money to buy long-hold domains that have the potential of bringing in hundreds of thousands of Dollars.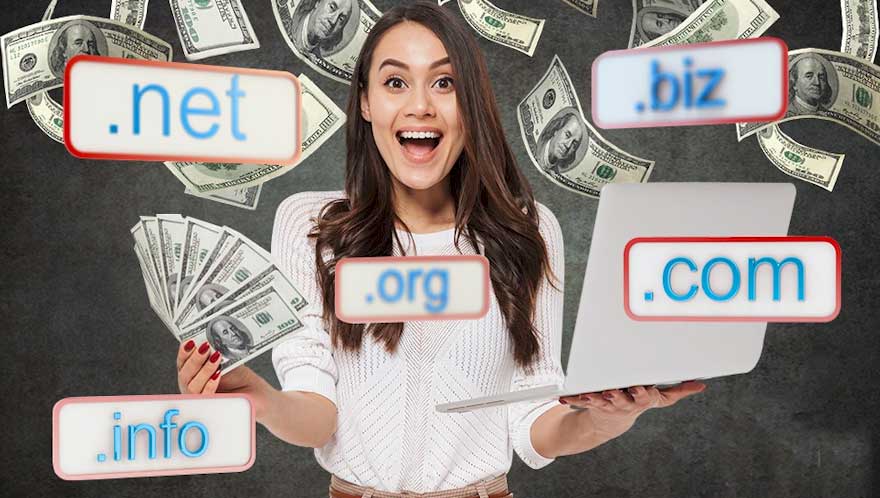 According to SEC document showing that Vegas.com lease-purchased LasVegas.com in 2005, for what could be up to a $90 Million Dollars.
The terms of the agreement for the purchase of LasVegas.com by Vegas.com is specified as follows:
– An initial payment of $12,000,000, one-time, to be made upon execution of the agreement along with monthly payments of approximately $83,000 for the next 36 months, followed by a payment of $125,000 for the next 60 months, and then $208,000 for the subsequent and final 6 months. Then as per the terms of the agreement, after June 30, 2016, following the 132 initial monthly payments, VEGAS.com, LLC in its sole discretion may terminate the lease-purchase agreement and forfeit the domain name. If VEGAS.com, LLC chooses not to terminate the agreement, they will continue making the monthly payments of approximately $208,000 until June 30, 2040, at which time the seller will transfer the domain name to VEGAS.com, LLC without further payment or cost to VEGAS.com, LLC.
Domain names are only booming in prices.
Some other domains sold for a good price:
| | | |
| --- | --- | --- |
| Domain | Price | Sale date |
| Voice.com | $30 million | 2019 |
| 360.com | $17 million | 2015 |
| Sex.com | $13 million | 2010 |
| Fund.com | $12 million | 2008 |
| Hotels.com | $11 million | 2001 |
| Tesla.com | $11 million | 2014 |
| Porn.com | $9.5 million | 2007 |
| Porno.com | $8.8 million | 2015 |
| Fb.com | $8.5 million | 2010 |
| HealthInsurance.com | $8.13 million | 2019 |
| We.com | $8 million | 2015 |
| Diamond.com | $7.5 million | 2006 |
| Beer.com | $7 million | 2004 |
| Z.com | $6.8 million | 2014 |
| iCloud.com | $6 million | 2011 |
| Casino.com | $5.5 million | 2003 |
| Slots.com | $5.5 million | 2010 |
| AsSeenOnTv.com | $5.1 million | 2000 |
| Toys.com | $5.1 million | 2009 |
| Korea.com | $5 million | 2000 |
| Clothes.com | $4.9 million | 2008 |
| Medicare.com | $4.8 million | 2014 |
| IG.com | $4.6 million | 2013 |
| GiftCard.com | $4 million | 2012 |
| Yp.com | $3.8 million | 2008 |
| HG.com | $3.77 million | 2016 |
| Mi.com | $3.6 million | 2014 |
| Shop.com | $3.55 million | 2003 |
| Ice.com | $3.5 million | 2018 |
| AltaVista.com | $3.3 million | 1998 |
| Wine.com | $3.3 million | 2003 |
| Software.com | $3.2 million | 2005 |
| Whisky.com | $3.1 million | 2014 |
| Loans.com | $3.0 million | 2000 |
| Vodka.com | $3.0 million | 2006 |
| Candy.com | $3.0 million | 2009 |
| California.com | $3.0 million | 2019 |
--- article sharing ---