November 28th, 2023
You are a business owner, right? Do you know about Reg A+ investing for raising $20 million or more for your business?
Like almost all business owners, you want to raise capital for your startup or to finance your growth.
Right?
So what's stopping you?
Most business people would respond by saying, that they cannot find angel investors and they do not wish to go to Venture Capitalists (VCs) that want control of their business.
So, why business people cannot find angel investors? There are more than 15 million Americans who invest regularly in small businesses or have brokers that invest in S&P 500 for them. Many of them want to get in at an early stage of a business so they can make larger returns on their investments in the long term.
Well, yes there are many angel investors and small funds managed by anywhere from 10 people to 40+ people who have an investment club and want to invest from $50,000 to $250,000 or more in startups or to fund growth or new product development.
But, YOU CANNOT GO SOLICIT POTENTIAL INVESTORS unless you do so in accordance to the rules and regulations of U.S. Securities and Exchange Commission (SEC). Otherwise, you get into trouble. To protect the public from fraudulent investments (which crashed the stock market in 1929), the SEC requires for the shares to be offered to the public (advertised and sold) to be registered with the SEC to ensure that the information regarding the company provided for the potential investors are accurate.
This registration of the company shares for sale is often called an Initial Public Offering or an IPO. It is costly, often very costly, and very time consuming.
Hence why business people like yourself can't find potential investors, because they cannot advertise directly to the public, offer their company shares, raise capital and inject it into their business growth.
The SEC does however have a modified new law, which is an exemption from registration.
This means that the new provision (called Regulation A+ or simply Reg A+) allows you to advertise to the public, raise as much as $20 million for your business, and if you have audited financial statement of your business, and meet a few other conditions, you can actually raise up to $75 million per each 12-month period. This is also called a DIRECT IPO since the shares are liquid and can be put on a local exchange for trade. That is why there is so much interest by business owner like yourself in Reg A+ investing for raising $20 million or more for your business.
Here's a video about Elon Musk pitching the new Reg A+ as advocacy for small businesses, submitted by:
Elon Musk appears to be a strong advocate of Reg A+, and has spent $5 million to promote the SEC's newly available mechanism that makes it much more easier for businesses and entrepreneurs to raise money by being able to advertise directly to the public and find investors.
According to Josh Landon, Executive VP of iDirectIPO.com, the new SEC rules will transform Regulation A+ into a workable capital-raising tool for small private companies allowing them to issue shares of their business under the Reg A+ exemption for up to $75 million of angel investor capital. If you are not interesting in as much as $75 million for your business, then there is easier Reg A+ investing for raising $20 million or more for your business (even fewer compliance requirements).
This is incredibly important for companies that have often expressed displeasure with getting money from VCs who put people on the board of directors and stipulate special constraints and control over the affairs of the business and its management team.
The SEC has crafted the offering and disclosure procedures to be uniquely simplified for Regulation A+ and specifically designed with smaller startup companies in mind. The new rules modernize the qualification process which is often cumbersome for a standard (S1) IPO, but now the communications and offering processes, incorporating into Regulation A+ offerings have many beneficial features, such as allowing for confidential submissions and adopting a notice-equals-access model.
One of the important features of Regulation A+ (not available before) is the ability of selling the shares that the angel investors purchased under Reg A+, therefore providing liquidity. This is often known as secondary offering or resell. The SEC hopes to encourage investment in startup companies by giving investors access to liquidity through secondary sales as a part of a qualified Reg A+ offering, although some restrictions do apply on these sales.
The ability to raise large amounts of capital
The ability to offer and sell unrestricted shares to accredited AND non-accredited investors
Founders and other insiders are able to sell some of their shares
The offering can begin to develop a trading market for shareholders to gain liquidity
Elon Musk's views this as new democratization of funding a startup. By opening up investment in private real estate, tech companies, or any new business venture, to non-accredited investors (people who are not wealthy), Reg A+ democratizes the process and provides more people with a pathway to the benefits of owning ground floor opportunities in new tech companies, new ventures, and real estate.
Previously prevented from participating in private investment opportunities, non-accredited investors can now enter a playing field formerly reserved for more affluent wealthy investors.
For businesses and entrepreneurs, Reg A+ offers incredible incredible flexibility and a new opportunity that simply was not available to raise anywhere from $1 million to $75 million. Now you have ample funds to invest in your company's content marketing services to grow your business.
For additional information or how you can raise capital for your business, you can visit or contact: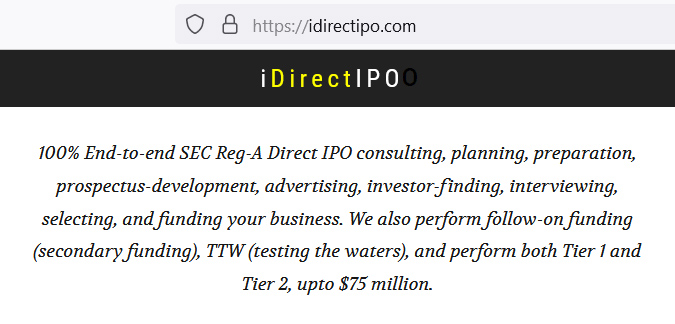 --- article sharing ---